History Arraial d'Ajuda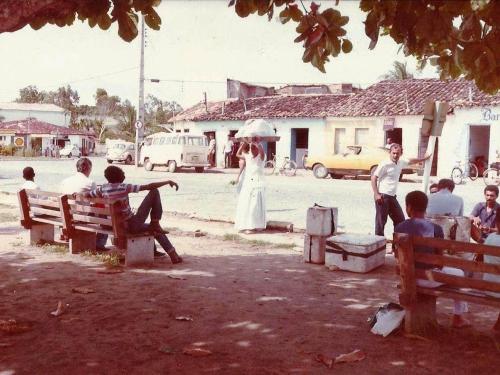 ARRAIAL D'AJUDA is the first Mariano Sanctuary of Brazil, located 05 kilometers from Porto Seguro, in Arraial d'Ajuda, on the Discovery Coast, about 750 km from Salvador.

Porto Seguro was a small, beautiful, welcoming city. He still had no commercial flights - he traveled 18 hours from Rio de Janeiro or 24 hours from São Paulo to get there. But nobody complained …

The Arraial of Our Lady was a tribute to Tomé de Souza and to the first Jesuits who arrived here in 1549, with their 03 ships: Conceição, Salvador and Ajuda, which became the names of cities and their first Churches. The Arraial did not participate in the so-called "sixteenth-century urban network" like Porto Seguro and Cabrália. Before the construction of the straw chapel there was only a plateau with a plantation of a cane field.
Anchieta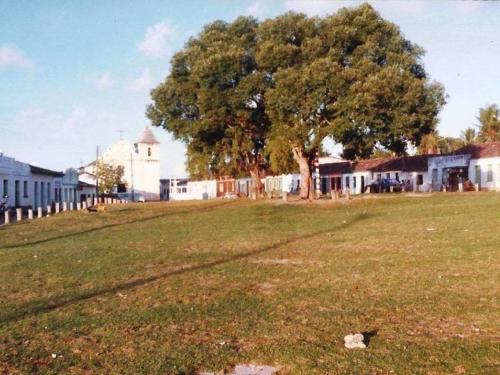 At the beginning of the sixteenth century, José de Anchieta wrote about the "sonorous soft whisper of water that miraculously flowed from a fountain outside the church's frontispiece at the foot of a leafy tree when Father Francisco Pires Celebrated there the holy sacrifice of the mass ".

In addition to Anchieta, other authors present several versions on the water miracle, among them Fr. Simão de Vasconcelos in his "Chronicle of the Society of Jesus in the State of Bahia", in the 1864 edition: "A woodcutter, inhabitant From a quiet ranch to the aura of the coast, one day ascending the summit of the mountain, suddenly stumbled upon a pebble; Was the miraculous little saint.
Our Lady of Help
Becoming a hermit, he pilgrimaged around, performing miraculous cures, whose proceeds went to the raising of a church, which he named Our Lady of Help. " There is another legend: "When a brother saw a branch of a very large tree near the hermitage, he asked Our Lady for the miracle of giving him water there." Father Nobrega, who was present, said: "More could the Lady."

When everyone went to Mass, in the midst of the holy sacrifice, a great flood of water suddenly broke out in the place marked on the tree trunk, near the altar of Our Lady. "Another version says:" On the top of a plain, A farmer who did not like to see his land pass by, those religious who came and saw carrying the water.
History of the Company of Jesus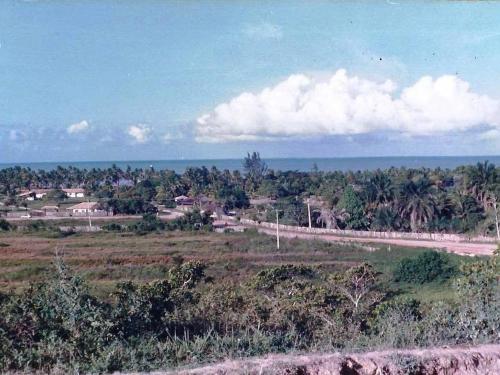 Um dia, não suportando mais a invasão, determinou a proibição dessa passagem. Logo os fiéis não pararam de rezar, a suplicar pelo milagre de uma fonte de água, para seu trabalho, sua sede, o que, num momento, aconteceu em plena hora da missa. E o fazendeiro, arrependido, resignou-se à religião cristã e comungou com os fiéis, unindo-se a eles".

Segundo o Pe. Serafim Leite, na sua "História da Companhia de Jesus", edição 1945, afirma que foi Vicente Rodrigues o descobridor da fonte. ?Foi no tempo da construção da primeira casa.
Vicente Rodrigues and Francisco Pires
When there were two priests, Vicente Rodrigues and Francisco Pires , God himself wanted; And the earth is opened and the most famous fountain which hitherto is in that land is come forth. "
Within this mystical atmosphere, in the middle of the 70's, the alternative wave rocked the conventional structures: backpacking, a world to reinvent, young people in search of a dream, who finally found in Arraial the perfect place, kindly receptive native people and An exuberant nature.
Roots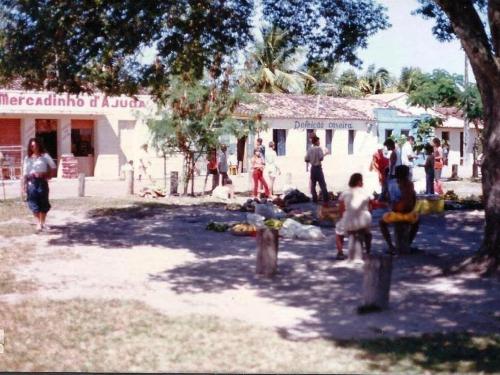 A partir de então
, muitos que aqui passaram, resolveram fixar raízes, trabalhando e contribuindo para que este paraíso fosse se tornando no que é hoje: rota da trilha de viajantes de todo o planeta , o que dá ao Arraial uma cara pitoresca e universal.
Agradecimentos:
 As fotos antigas de arraial, foram gentilmente cedidas, por: Clovis Heberle - Do seu Blog: 
https://clovisheberle.blogspot.com.br